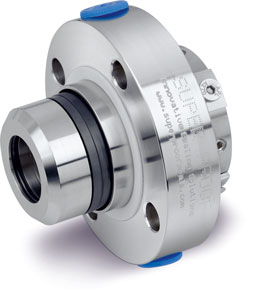 Double Cartridge Seal Type ZR600/D are Recommended for Clean and dirty media application . Seal can tolerate reversal pressure. Double Cartridge Seal Type ZR600/D is Standard for using where Corrosive Liquid are being Processed. Superproofseals Engineering are the top manufacturer of Double Cartridge Seal Type ZR600/D in mumbai, INDIA This Type of Seals is designed for using for Petroleum Products, Low Aggressive Chemicals and Refrigerants in Centrifugal pumps and other Equipment with Rotating Shafts.
Balance Pusher Seals available in Single and Dual Configuration used for Sealing Environmentally. Dual Directional. Stationary spring design. Heavy Duty Seal Faces remain flat during Operation to minimize Leakage. Components in Cartridge Design are Builds for the Highest Reliability and Simple Installation. Hydraulic Balance Seal Permits using high Pressure as well as it Create Low Heat Generated on Faces and provides long Life. Unitized, Easy-to-Fit Design.
Seal Ring Faces : Cabon, TC and SiC
Seat Faces : SiC and TC
Elastomer : Viton, PTFE, and FFKM
End fitting MOC : SS 316,HAST-C and Carpenter 42
MOC : SS 316 – CHANGE OF MOC ON REQUEST
Shaft Dia. : 20mm to 100mm
Pressure : Up to 15 bar
Temperature : -30°C to 260°C
Speed: 3000 r.p.m.