Double Seal For SS Reactor
SEAL TYPE: 510/D & 510/D/B
Seal Type 510/D and 510/D/B Mechanical Seals are designed for Top, Side and Bottom Entry Drives in Agitators and Reactors. Compact Economical Cartridge Double Mechanical Seal for Agitators and Reactors. Seal Type 510/D/B Design Incorporate with location of Bearings very close to the Seal. These Seal specially designed for any mixed and pressurized liquid in Vessel with Top Entry Agitators where no leakage in Process Gas OR Fluids to the Environment can be tolerated. Complete Pre-assembled Tested Unit ready for installation. These Seal are used for Exclusive Solid Seal Faces, Stationary Seats, thus Lowest Level of Seal Face distortion when Expose to Compressive Load and Thermal Pressure.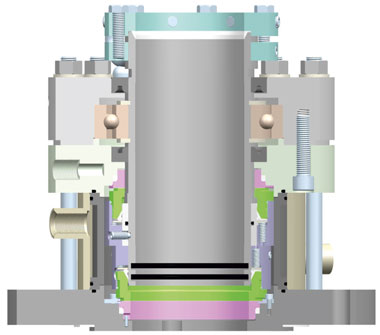 Balance Pusher Seals used for Sealing Environment. Dry Run Seals are excellent in High Speed Seals for Operation in Vacuum Conditions as well as Undemanding Mixers applications. In SPD104/J & SPD104/B/J Cool Set designed Mating Ring help to dissipate the Heat from Faces. This Type Seal design may use either without Bearing OR with Integral Bearing. These Seals are a Multiple Spring basically externally Mounted Seal with 'O' Ring as Secondary Sealing member. Various Elastomers can be offered for various media application
Seal Ring Faces : Carbon and SiC
Seat Faces : SiC and and TC
Elastomer : Viton, TTV, FEP and FFKM
MOC : SS 316 – CHANGE OF MOC ON REQUEST
Shaft Dia. : 50mm to 200mm
Pressure : Full Vacuum to 30 bar
Temperature : -30°C to 200°C 
Speed: 300 r.p.m.