Double Semi Cartridge Seal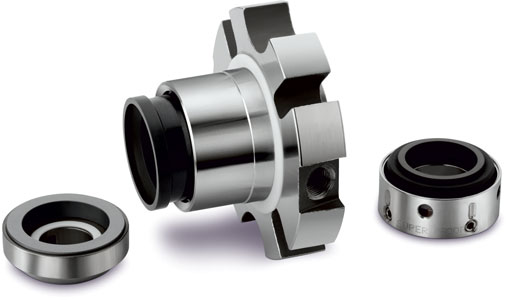 Designed to handle solids up to 20% by weight. Hydraulically balanced faces for excellent seal reliability. Springs are located outside the process. Flushing helps to lubricate or cool the seal faces from atmospheric side of mechanical seal. They are cost effective for basic application such as Centrifugal Pumps and other Equipment with Rotating Shaft, Handling Crystallizing Slurry, Suspended Solid Slurry, Saturated Chemical Slurry, General Chemical Slurry.
Slurry seal.
Standardized modular design.
Single Acting.
Mechanical Seals.
Inside Mounted
Seal Ring Faces : TC and SiC
Seat Faces : SiC and TCs
Elastomer : Viton, TTV, FEP and FFKM
End fitting MOC : SS 316,HAST-C and Carpenter 42
MOC : SS 316 – CHANGE OF MOC ON REQUEST
Shaft Dia. : 20mm to 80mm
Pressure : Full Vacuum to 8 bar
Temperature : -30°C to 260°C (Depending upon Elastomer)
Speed: 3000 r.p.m.