The Universal Cartridge ZR800/S Series is a modular cartridge seal family that includes elastomer o-ring pusher seal designs. Type ZR800/S single seal arrangements incorporate an elastomer o-ring as the secondary sealing member. A common seal head/mating ring set, utilized throughout all versions, is reversible to allow rotating. Seat/mating ring or rotating seal head operation, and is interchangeable with metal bellows seal heads. Seal has an optional quench gland with carbon ring throttle bushing.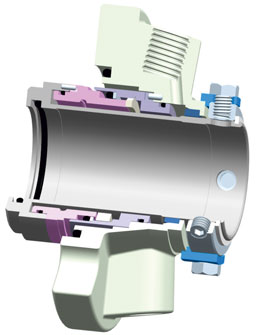 Balance Pusher Seals available in Single and Dual Configuration used for Sealing Environmentally. Dual Directional. Stationary spring design. Reversible Seal Head. No clogging Wave Spring outside the Product. Components in Cartridge Design are Builds for the Highest Reliability and Simple Installation. Hydraulic Balance Seal Permits using high Pressure as well as it Create Low Heat Generated on Faces and provides long Life. Unitized, Easy-to-Fit Design.
Seal Ring Faces :TC and SiC
Seat Faces : SiC and TC
Elastomer : Viton, PTFE, FEP and FFKM
End fitting MOC : SS 316,HAST-C and Carpenter 42
MOC : SS 316 – CHANGE OF MOC ON REQUEST
Shaft Dia. : 20mm to 100mm
Pressure : Up to 18 bar
Temperature : -25°C to 260°C
Speed: 3000 r.p.m.